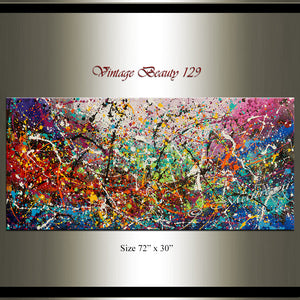 Acrylic Wall art Jackson Pollock style 72
More than anything else – a piece of art can bring all tangible things in space including fabric, furniture and finishes, all at one place. It has the ability to make a place enlightened and tie all components together, along with making you feel that you belong to the place - it actually reflects you, your style, your character and everything about you.
Acrylic Wall Art is a new entrant in the world of art, but in spite of its late entry, it has certain distinct qualities that make it the most preferred choice of many art enthusiasts along with homemakers and many interior decorators. And, the best part
Whether you are an art lover or someone who likes artworks hanging on the walls or even an interior designer – whoever you are, chances are there that whenever you think of art, you will think of a large size oil painting that looks much different on different types of walls. It's also true that not all of us can afford an expensive piece of original artwork, but we all can appreciate the beautiful creations made by artists.
Some might like acrylic oil painting abstracts, while others may prefer classic arts. But painting Jackson Pollock art 72' Drip is a creation by renowned Texas, Dallas artist Maitreyii, which can be the best decorative for any wall of your home or office. This abstract, original and large wall art painting is truly majestic to transform the look and atmosphere of any place.
with acrylic art is that it can be preserved for a long period of time as it has the abilities to resist external factors after it has dried up.
Acrylic Wall art Jackson Pollock style 72" Painting, is a masterpiece created by renowned and acclaimed artist Maitreyii of Dallas, Texas. The art is a perfect piece of decor for any home or office space and depicts abstract oil and acrylic painting. 'Made to Order' the particular piece is created by the artist in three to four working days and shipped to your desired location. The artwork is authenticated of its being original by being signed by the artist in one corner in the front and back along with the date. The painting is created using acrylic and oil paint on canvas, a clear and glossy coating is applied to protect the valuable artwork from moisture, dust and UV damages.
Please note, that what you see on the web and the original painting will be slightly different as every piece is uniquely created by hand and hold its own identity as a masterpiece. The canvases are shipped rolled up in a tube nicely and safely so that you can unroll it and frame it up as per your choice.
---