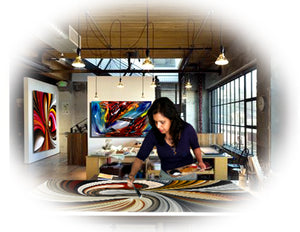 From My Home Art Gallery To Your Home - 100% Original Handmade Painting by Artist Maitreyii
Maitreyii fine art is currently one of the most popular Art Gallery dealing with online sales of artworks. We are ready to offer you magnificent, high-quality artworks created by Dallas Artist Maitreyii. All works are original Hand signed by Artist Maitreyii. All works presented by her gallery are meticulously checked and carefully selected, so that every customer may enjoy original artworks. Maitreyii's exposition is continuously expanded and regularly renewed. Her gallery hosts practically all art styles and directions; therefore, she makes sure that you will certainly find exactly what you need.
Should you feel difficulty in choosing any artwork presented by Maitreyii fine art, She would gladly assist you in making a perfect choice. She will help you in finding most suitable artwork for your Home, Office and lobby. Maitreyii's priority is providing most comfortable, high-quality and fast services to her customers. She does her best for you to enjoy her service and the quality of the artworks you choose: Oil and Acrylic paintings from her site will enrich your collection as they truly are original and professional art pieces being affordable at the same time .
Maitreyii has been selling her artwork internationally in many countries and her art was admired every places. She work solely in her own workshop on ideas and new creations. A few of her paintings are on the site and she would love to be of any assistance if you would want your interiors or exteriors decorated with her paintings... Read More
Sign Up For Exclusive Savings
$50 off Your Purchase *
Minimum $500 Purchase. One account allowed per customer. We respect your privacy. Must be 13 years or older to join/participate.
Testimonials
Hi Maitreyii:


You are an extremely talented woman, a very gracious lady, and kind person, and we feel honored and so fortunate to have your art in our home. We are going to do a major remodeling project on our house this spring, and your painting has been purchased to be the ONLY painting in our new master suite.  We want it to be the true focal point of the entire room.  It will be hung in a custom designed alcove over our bed and the lighting we are planning for it is extraordinary.

So please know your beautiful work of art, from the beautiful person you are, is being loved and appreciated and truly treasured here...and will be seen by many people as they tour our remodeled house."

Best Regards......Cathy "
Love love love this artwork. Thank you! It's beautiful and looks gorgeous in the space. This piece exceeded my expectations. Highly recommend this art and the artist.

Rebekah
Absolutely magnificent, true art, well worth the cost and wait. Bravo to Maitreyii.

Peter
I couldn't be more happier with my painting. It's beyond beautiful and I will certainly be patronizing this artist in the future!

Whinsoni
Beautiful painting!! Couldn't be happier with this purchase!!

aleixofabiana